---
RR21A2F2YDX/IM One Door Refrigerator with Digi-Touch Cool, 198L
Samsung Single Door Refrigerator
Capacity :- 198 Liters - Gross, 188 Liters - Net
Design :- New H-Bar Handle, Luxe Brown Color
Cooling Features :- Direct Cooling System, Manual Defrost
Refrigerator Features :- 2-Glass Shelf, 1-Vegetable Box, Big Guards, 5-Door Pockets, Egg Tray, Fresh Room, Interior LED Light
Freezer Feature :- Tray Ice Maker
General Feature :- Door Alarm, Lock & Key, Cyclopentane Insulation, Digital Inverter Compressor, 20-Year Compressor Warranty
Energy Rating :- 3-Star Rated
Accessory :- Manual book
Product Description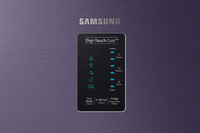 Digi-Touch Cool
This panel lets you experience intuitive and quick control, and also alerts you of power outages. It also helps restore any loss of temperature. Using this panel, you can save energy by choosing the Eco Mode and a Door Alarm. Also, for quick defrosting, you can activate the e-Defrost feature. You can also select the Power Cool option for fast cooling your food and beverages.
Digital Inverter Technology
This technology ensures a durable, energy-efficient performance while making low noise. This refrigerator's Digital Inverter Compressor adjusts its speed automatically as per cooling requirements.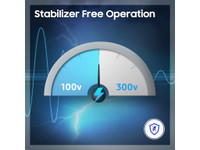 Stabilizer-free Operation
Even during power fluctuations, this refrigerator runs steadily and reliably, thanks to this feature that protects it from electrical damages. Also, it automatically disconnects the power supply when it surges to a dangerous level.
Operates on Solar Energy
If you have solar panels at home, then this refrigerator can run the electricity generated by these panels between a voltage range of 100 V and 300 V.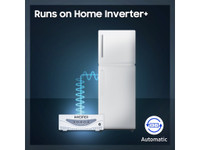 Runs on Home Inverter
Even during power outages your food and beverages stay fresh and cold, thanks to the Smart Connect Inverter feature of this refrigerator.

Toughened Glass Shelves
You can keep food-laden pots of up to 175 kg of weight on the glass shelves of this refrigerator.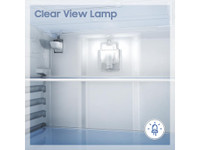 Clean View Lamp
Energy-efficient, bright, and safe, the Clean View Lamp makes it easy to spot what you want inside this refrigerator.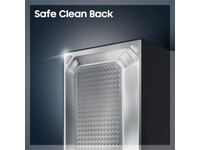 Safe Clean Back
It protects the internal vital components as a smooth safety cover that is easy to clean. Also, it offers a neat look while preventing accidental knocks and bumps.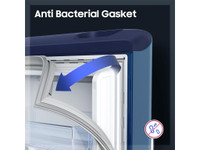 Antibacterial Gasket
This helps you maintain a hygienic refrigerator by keeping the door liner clean and preventing fungi and bacteria build-up.

Big Bottle Guard
This fridge has a Deep Door Bin to keep big bottles, cartons, etc. Also, the door has space for three 2 L bottles and one 1 L bottle.
More Information

| | |
| --- | --- |
| SKU | sd-109926-725-him-rr21a2f2ydx |