Samsung Solo Microwave Oven MS23T5012UK
Design and Material :- Black Color Cabinet, Pure Black Color Door, Touch Control Method, Side Swing with Handle-Door Type, LED Display, Ceramic Enamel Cavity
Power :- Source 230v/50Hz, Output Power : 800 watts(6-power levels), Power consumption : Microwave (1200Watts)
Features :- Eco Mode, Quick Defrost, Various Auto Cook Menu, Child Safety Lock, 30s +, Steam Cook, Auto Cook, Keep Warm
PRODUCT DETAILS
Product Description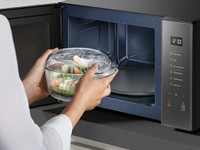 Healthy Steam Cooking
This kitchen appliance features a Healthy Steam function that helps you prepare nutritious steamed food items that can complement your lifestyle. All you need to do is take a heat-resistant glass steamer and put water in it. Then, put your food ingredients on the rack, followed by entering the food type, weight, and this microwave oven optimizes the cooking time.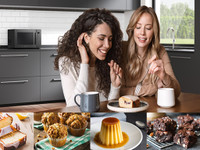 Easy Desserts
Making desserts at home becomes easy with this microwave oven. Just select the dessert that you want, mix all the ingredients, and then, select the Home Dessert option. Using this appliance, you can make walnut pound cake, egg pudding, banana bread, and brownies.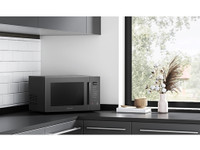 Stylish Kitchen Appliance
This is a stylish kitchen appliance for modern homes. It has a countertop design and a stunning shade to add a contemporary touch to your kitchen interior decoration.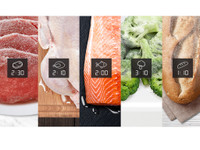 Fast Defrosting
The Quick Defrost function lets you defrost frozen food in no time. You can defrost meat, fish, poultry, bread, and vegetables. You have to select the type and weight of your food item. Then, it assesses the optimal defrosting time to prepare your food ingredient for cooking quickly while maintaining its nutrients.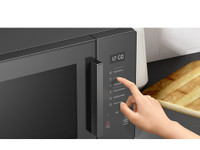 Glass Touch Control
The Glass Touch control panel features six essential buttons to make it a stylish and intuitive appliance. Furthermore, the glass-made panel seamlessly blends with its front by mirroring the glass door. So, it offers a stylish minimalist appeal.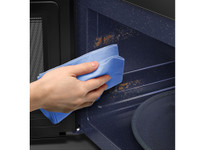 Easy Clean Interior
The durable, smooth ceramic enamel interior can be cleaned easily without scrubbing it. Also, it is rust- and scratch-resistant, and lasts for a long time without discoloration.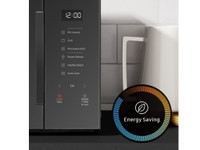 ECO Mode
This mode lowers the energy consumption of this appliance. So, this mode helps you save energy and money on your electricity bills.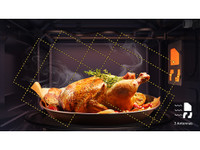 Cook Perfectly
This appliance cooks everything perfectly. It features a Triple Distribution System that distributes the microwaves in three different directions. So, it reached each corner while penetrating the food item through multiple directions for even cooking. Thus, your food is cooked evenly and thoroughly.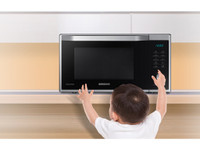 Child Lock
You can lock this microwave oven, thanks to its Child Safety programme, to ensure that no one can accidentally change the settings.
More Information

| | |
| --- | --- |
| SKU | HIMSAM-SUNG-0712001 |